Making of: Slit scan photography
Inspired by this pattern of vent I found behind one of the NYU buildings' window, I really like the slick and sharp looking of it. Then I started thinking of layering them on top of each other.

Before I started building physical, I pivoted my focus to light, since it's the source thats making the color difference we see on the patterns.

Stanley Kubricks 2001: A Space Odyssey came up a lot during my other classes the last week, so I decided to revisit the star gate scene and try to recreate with the pattern.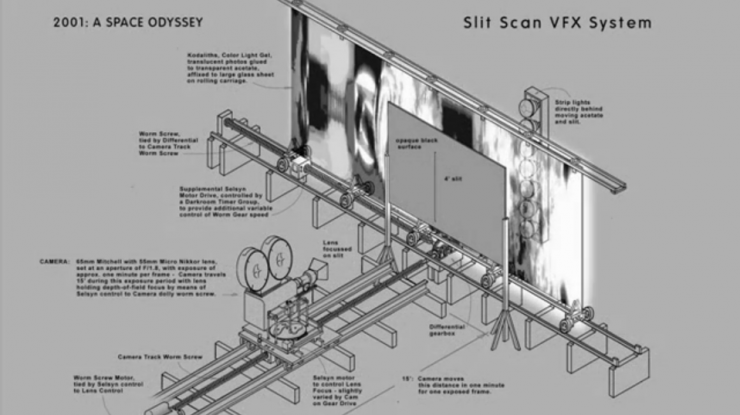 First iteration:

I Started out testing on my TV screen with 2 cloths covering the majority of it's area, later to discover.

That was when I realized that my phone doesn't allow me to take "moving" long exposure shots. So I downloaded a 3rd-party app which allows me to digitally scan the screen from left to right.
The results wasn't optimal and not the same feeling I'm looking for, the ideal way to shoot this is to move the camera closer to the screen when exposing, creating a distortion that implies the depth of space and movement.
Changing the camera system and the overall setup:
I ended up with the following setup, scaling down the system to help me control the camera's movement better.

I also figured out the only way to do the slit scan legitimalnly is through iphone's live photo option, where once the file's done you can export the file to "Long Exposure" mode thats a still image of a fixed 3-second exposure time.

As for the slit pattern itself, this is the length I've chosen: 93, 18, 66, 5, 82, 2, 70. Which came from the first set of numbers I taken out from this course's syllabus.
The final output is way better than the ones came from the app, it's still very janky though sine I was moving the camera forward with my own hands. I tried using the guerilla style gears I came up with on the spot but still the results were worst than my hands.
Movie played in the background: The Umbrellas of Cherbourg